Flooring
Wood flooring has always been the popular choice for many household and commercial applications. We offer a number of different collections of wooden flooring specially adapted to meet the different needs of different markets. With over 15 years of experience in supplying and installing good quality grade wood flooring, you can be guaranteed that our wood comes from sustainable forests which are better for the environment than non eco-friendly timbers. Many different designs and a variety of surface structures and formats are available.
Solid
Solid hardwood flooring is a one piece non-laminated wood being produce directly from the sawn timber into various profiles, such as Tongue & Groove (T&G) or Click System.
Asia Decowood
has various species to suit every taste, budget and environment in a large selection of finished and unfinished wood flooring.
Unfinished Hardwood
Unfinished hardwood flooring is delivered raw then sanded, stained and finished at job site. It is available in more widths and wood species than prefinished flooring and can be matched to existing wood floors. Unfinished flooring is great for that rustic appearance and gives you the chance to finish your boards exactly to your specification. However, the extra time and work required for unfinished flooring does pay off. As any expert would say, the beauty of a sanded and finished hardwood floor can't be matched with pre-finished flooring. One characteristics of unfinished hardwood flooring is that it shrinks and expands with changes in extreme temperatures and humidity.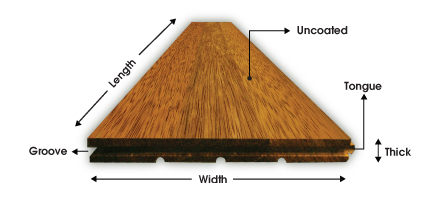 Species
Burmese Teak, Kempas, Merbau, Hevea
Sizes

Thickness x Width x Length

Lamparquet ( S4S ) - 10/11mm x 50/70mm x 300-500mm
Tongue & Groove (T&G) - 11/15/18/25mm x 70/90/120/145mm x 450/600/900/1200/1500/1800mm
Finger Joint (FJ) - 15mm x 90/120/150mm x 1200/1800mm

Specifications

Grade A, Select & Better
2 or 4 sides Tongue & Groove/Click System
Non-finished or Pre-finished with Germany Treffert UV Anti-scratch Coating
Moisture Content 8-10%
Packaging: Carton Box

Certification
Prefinished Hardwood
Prefinished hardwood floor is a faster and less labor intensive alternative to unfinished flooring. Installers usually only need a day (depending on the floor size) to complete the job and far more convenient as no sanding, nailing or finishing needs to be done on site. Because each plank is already been coated multiple layers of finish applied at the factory, so it does not require any further treatment once it has been installed. Prefinished hardwood floors are more versatile as they can be installed over a wider range of subfloors than unfinished hardwood floors. Because prefinished flooring can be floated, that is, not attached to the subfloor, they can be installed over almost any type of subfloor including concrete. Also, the durable coating on prefinished flooring and its engineered design makes it more resistant to moisture and humidity, making it suitable for climatic regions with high humidity or large variations in temperature, or when the subfloor is below grade and more prone to moisture.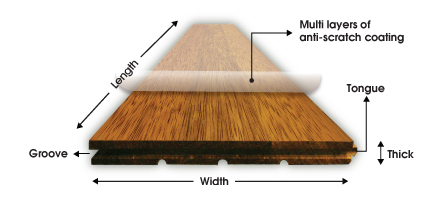 Species
Merbau
Sizes

Thickness x Width x Length

Tongue & Groove (T&G) - 15/18/25mm x 90/120/145mm x 450/600/900/1200/1500/1800mm
Finger Joint (FJ) - 15mm x 90/120/150mm x 1200/1800mm

Specifications

Grade A, Select & Better
Tongue & Groove
3 Strips Finger Joint
Pre-finished with 7 Layers Germany Anti-scratch Coating
No Sanding & Nailing Required

Certification